«Vulture Industries come across as complete oddballs. They are the mad hatter's tea party irregulars with an "Alice In Wonderland" surrealist brand of dark metal cabaret" – Terrorizer Magazine

The Norwegian coastal city of Bergen is famous for its vibrant Rock and Metal scene. Surrounded by fjords and mountains, this beautiful but rain ridden place would be associated with Black Metal by most people, yet VULTURE INDUSTRIES are of a very different breed. The bands last album, "The Tower" explores dark musical vistas with a unique mixture of progressive, experimental, industrial, doom, extreme and even symphonic elements. This amalgamate of styles may conveniently be dubbed Avant-Garde Metal, which can be further explained by drawing possible comparisons with FAITH NO MORE, MR. BUNGLE, ARCTURUS, DEVIN TOWNSEND, VED BUENS ENDE and THE CULT.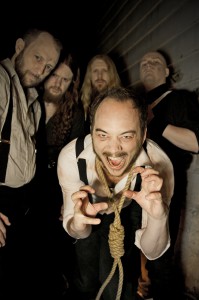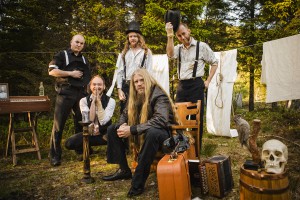 Formed in 2003, the band consists of current and former members of SULPHUR, BLACK HOLE GENERATOR and SYRACH. After two demos "The Sleeper" (2003) and "The Enemy Within" (2004), which captured attention in progressive circles, the EP "The Benevolent Pawn" (2005) was the first official release. It was followed by two full-length albums, namely "The Dystopia Journals" (2007) and "The Malefactor's Bloody Register" (2010). Both releases gained high critical acclaim and praise from the fans alike.
Now the band from Bergen takes another step in their steadily climbing career. "The Tower" was recorded at the Conclave & Earshot Studios in Bergen (ENSLAVED, AUDREY HORNE, HELHEIM, TAAKE) and produced by frontman Bjørnar E. Nilsen. The mixing was excellently handled by ENSLAVED keyboarder Herbrand Larsen and the album was mastered by Jens Bogren at Fascination Street Studios (OPETH, KATATONIA, DEVIN TOWNSEND, IHSAHN). "The Tower" is yours to climb…
Booking (Europe+): bjornar@propulsionmusic.no
Booking (North America): jake@tonedeaftouring.com
Label: Season Of Mist
Links: